Hands-Only CPR Training Prepares Bystanders to Offer Assistance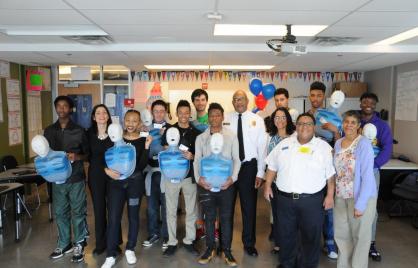 (WASHINGTON, D.C.) – Today, the DC Fire and Emergency Medical Services Department (DCFEMS) reached its 5,000th trainee for the "Hands On Hearts" initiative which prepares bystanders to assist a person experiencing sudden cardiac arrest. The initiative was launched in October 2015 with Mayor Muriel Bowser with the goal of training 5,000 people by September 2016.
"This is a very significant milestone for us to reach. We've been able to achieve this goal with the help of our partners in less than half the time originally predicted," said DCFEMS Chief Gregory M. Dean. "That says a lot about the trainers and trainees who have shown a strong interest in helping others."
The milestone was reached during free 20-minute training sessions that were held at E.L. Haynes Public Charter School at 4501 Kansas Ave. NW. The school was hosting its fourth annual "Wellness Day," an event dedicated to helping students enhance their physical, mental and emotional well-being.
Bèlen Rice, a sophomore at the school, signed up during the first session and was the 5,000th trainee to complete the hands-only CPR and AED (Automated External Defibrillators) demonstration.
Chief Dean presented a certificate to the school to acknowledge their civic service by "helping the Department achieve its goal of 5,000 trainees."
Hands-only CPR is a technique that involves chest compressions without artificial respiration. Studies indicate that hands-only CPR performed immediately can increase a cardiac arrest victim's chance of survival. According to the American Heart Association (AHA), sudden cardiac arrest is a leading cause of death that mostly affects people in their homes.
"Hands On Hearts" is an initiative developed in partnership by the DC Fire and Emergency Medical Services Department, Serve DC, the American Heart Association of Greater Washington (AHA), American Red Cross and others to provide free life-saving hands-only CPR and AED awareness training that takes about 20 minutes to learn the basics.
For more information, please visit http://handsonhearts.dc.gov
###